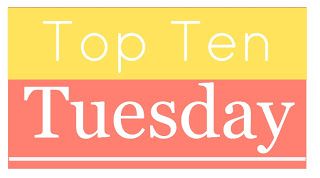 where bloggers share their opinions on bookish topics in list form.
Topic: Book Turn Offs
Book Turnoff #1: Cheating
As many of you know, cheating is a deal breaker for me. I don't like it, I don't appreciate it and I sure as hell don't want to read about it. But this month I discovered a book that turned out to be an exception to my rule, the book being
Covet
by Tracey Garvis Graves. I loved every second of it!
Book Turnoff #2: Deja vu Storylines
I hate when I'm reading a book and it feels like I've read that story before. Ugh! I need originality PEOPLE! Though most of the contemporaries have sort of the same storyline, either it's the best friend romance, "I hate you but I love you" romance, insta-love romance or something else, but then the characters and their backstories needs to be outstanding in my opinion.
Book Turnoff #3: Too Much Sex
As much as I love the sexy times in my reads, I need to have a storyline. It's not porn, now is it? Even fifty shades had a pretty good storyline! The book that did brought this point up was
Reflected in You
by Sylvia Day. I was so disappointed with that book that I still haven't picked up the next one. And honestly, I don't plan on doing it anytime soon.
Book Turnoff #4: Unnecessary Stretch
Have you read books where things are stretched for no damn reason? You know what I'm talking about! Where the story goes on and on and on without any reason. That's where good skimming skills comes in hand! Recently I read
Sweet Thing
by Renee Carlino and I can't even tell you how stretched the story was without getting in a rant. So lets just say that it was a waste of my time!
Boof Turnoff #5: Slow Pace
This kind of goes along with unnecessary stretch. Nobody likes slow pace reads, though there are some rare exceptions to this rule. The book that's on my mind right now is
Crash
by Lisa McMann. There was a lot of waiting in that book, but I loved the characters enough not to give up on their story.
Book Turnoff #6: Open Endings
Endings can make or break a book for me. While I'm a fan of HEA endings, I can handle realistic ones too, but don't leave them open. I don't want to fill in any blanks and make up my own ending; I just want the author to do his/her job completely. And if it has an epilogue--Hallelujah!
Book Turnoff #7: Choppy Chapters
Choppy Chapters are basically the ones that are left midair; this mostly happens in the before and after storytelling style and I guess it's intended to add some mysteriousness, but for me, it's just plain weird. Recent example was
How To Love
by Katie Cotugno.
Book Turnoff #8: Bitchy Characters
That includes bitchy, whiny, dependent, damsel in distress and all those types of stereotypical characters that I'm pretty sure nobody likes.
So that's my Top 8 List! Did we have any similar turnoffs?
Let me know in the comments and make sure to leave a link to your TTT :)